Trilogia de filmes do anime/manga Death Note será exibida somente no dia 2 de agosto em Salas Exclusivas do Cinemark!
Death Note: Um "SHINIGAMI" (Deus da Morte) deixa cair um caderno (DEATH NOTE) no mundo dos humanos. O estudante universitário Light Yagami acha o DEATH NOTE, que contém a seguinte frase: "o humano cujo nome for escrito neste caderno morrerá". Com este poder Light decide julgar criminosos a seu critério. Death Note: O Último Nome: Neste 2º filme, Light se junta à uma força-tarefa de "L" para procurar Kira e evitar suspeitas sobre si. "L" utiliza sua habilidade de coletar informações para resolver casos até então considerados insolúveis pelo mundo. Porém Light manipula habilmente o caderno da morte perturbando a investigação. O futuro da humanidade está à mercê desta intrigante batalha entre estes dois personagens marcantes.
Exclusivamente nas salas Cinemark – Shopping Barigui em Curitiba:
Compre agora seu ingresso: https://www.ingresso.com/curitiba/home/filmes/maratona-death-note
O Festival DEATH NOTE, exibirá os 3 filmes: 
DEATH NOTE, DEATH NOTE The Last Name e Death Note: Light Up the New World em um único dia (02/08).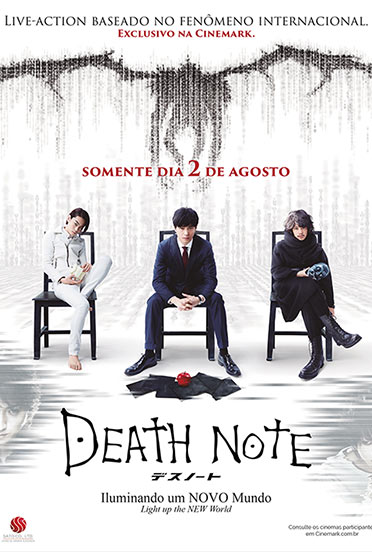 Horários da Maratona:
14:30 – Death Note
17:30 – Death Note 2: O último nome
20:40 – Death Note: Light Up the New World
Acompanhe as novidades na pagina oficial do filme:
Clique aqui
Para assinantes da Netflix o lançamento acontecerá no dia 25/08 sendo a versão americana.
Assista o trailer oficial: