Julho é sinônimo de comemorar o Dia Mundial do Rock e 21 anos de história do Crossroads, o bar mais rock'n'roll da capital paranaense. Este ano a tradicional festa que celebra o ritmo mais democrático do planeta está marcada para o dia 14 de julho, e traz novidades – estrutura, local inédito e dessa vez a festa começa no início da tarde, a partir das 14horas, para curtir com a família. Com realização do Crossroads, Planeta Brasil e 302, nesta edição, ela ganha novo nome "Festival Crossroads Dia Mundial do Rock" e será realizada no Usina 5 (R:Cosntantino Bordignon, 5) que pela primeira vez recebe um evento de rock em seu complexo.
Mais de 30 atrações vão se revezar em 4 palcos, 14 horas de muita música e diversão em sete ambientes. Serão homenageados os grandes ícones do rock mundial e nacional, além de valorizar os trabalhos autorais das bandas locais. Além disso, terá um espaço reservado para praça de alimentação com food truck, que remete aos eventos de gastronomia realizados mensalmente na casa, o Thunderstruck Food Park.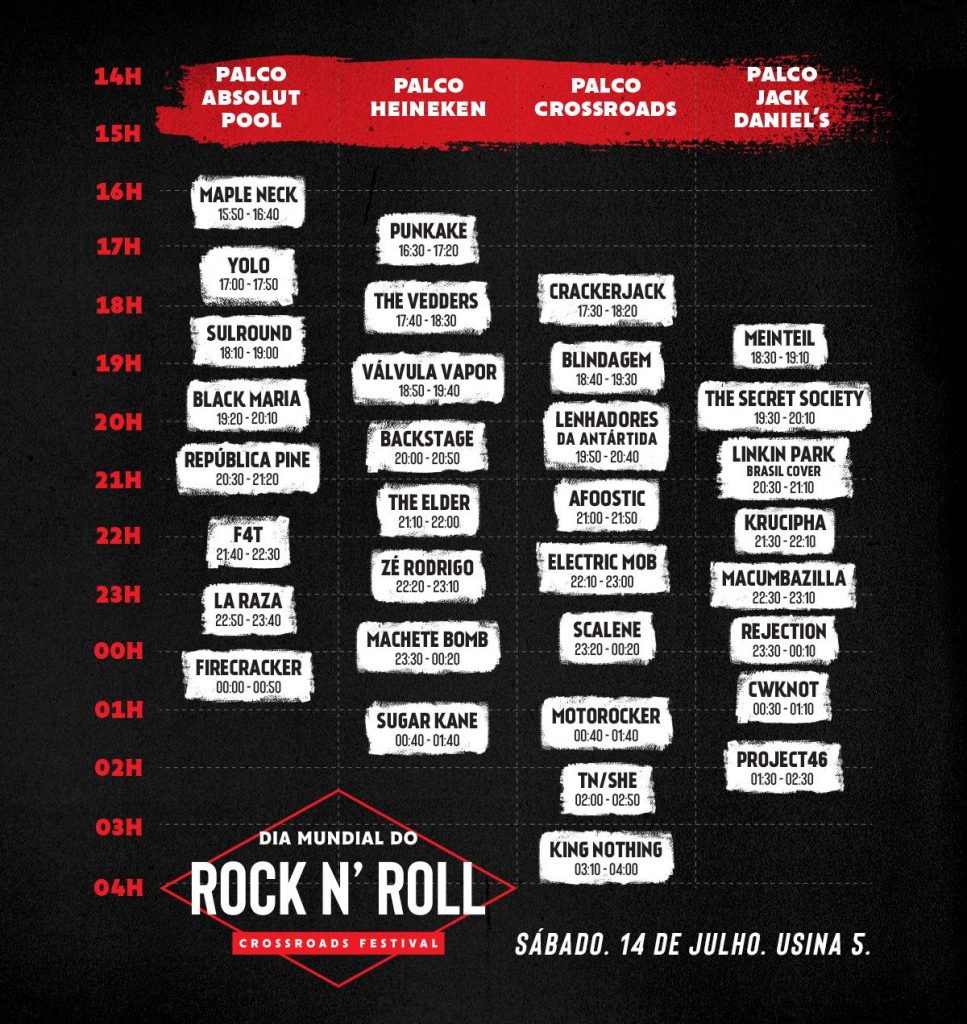 "A Usina 5 é um complexo de galpões de uma antiga fábrica de açúcar e café que foi revitalizado para ser um espaço multicultural em Curitiba. Receber um dos eventos que é referência no universo do rock n`roll na cidade fortalece nossa ideia de ser referência em um local de várias culturas. Sem falar que o local combina perfeitamente com a linha do Dia Mundial do Rock", completa Cezinha Mocelin, um dos sócios da Usina 5.
LINE-UP – Scalene, Motorocker, Project 46, Sugar Kane, Blindagem, Machete Bomb, La Raza, TN/SHE, Zé Rodrigo, Black Maria, The Elder, Macumbazilla, Lenhadores da Antártida, Krucipha, Firecracker, Válvula Vapor, Afoostic, Rejection, Meinteil, King Nothing, Sulround, Crackerjack, República Pine, F4T, Backstage, CWKNOT, The Vedders, Punkake, YOLO, Electric Mob, Linkin Park Brasil Cover, Maple Neck.
Os ingressos estão disponíveis – 2º lote – a partir de R$50 (meia-entrada) e podem ser adquiridos no  www.sympla.com.br e tb no Crossroads.